Today I review a beer from the brewery rated as number 1 in the country. None other than Hill Farmstead out of Greensboro, Vermont. They have been pumping out some brews that get outstanding reviews online. Everyone seems to be nuts about trading for them too. Heck, I was myself! They don't have big distribution. They also only have certain brews on tap at certain times. They do bottle some brews but not everything. They have a really great growler system with multiple sizes of growlers. They seem to know what they are doing. Hey, they are the number 1 brewery in the country after all.
Rankings aside, I have wanted to taste a ton of their beers. I haven't made it to the brewery in my travels, yet, so the only way I was going to be able to was to set up a trade. I was able to work out a trade with a great guy on BeerAdvocate. (thanks again ShawDeuce22!) Really great guy to trade with! I ended up getting a 750ml growler of this brew AND a Hill Farmstead glass. I've been wanting one of those for a while now too! We were originally going to trade for Ephraim from them but that was tapped out when he got there. So he scooped me up Society & Solitude #2. I looked it up and was pretty pumped. I haven't been the biggest fan of Black IPAs. A lot of them are just like hopped up Porters to me. I feel some people don't coordinate the right hops with the base malts in there or maybe just use some black patent to give it color. For this, however, I was really excited. I'd heard a ton of great things and knew if I was going to give the style a good run, why not do it with an awesome brewery.
So here is the review of Hill Farmstead's
Society & Solitude #2
.
Hill Farmstead Website
About the Beer:
Style:
Imperial Black IPA
Alcohol by Volume:
9.5%
IBUs:
N/A
I poured this into my NEW Hill Farmstead glass. (part of the trade)
Appearance:
Coming out of the sweet 750ml swing top bomber, the brew was really dark brown. Pretty close to black in appearance. Just hints of light coming through the edges of the glass and right at the top of the stem. Very nice carbonation giving way to a creamy, thick, two finger head. It really looks like a cup of espresso with the foam on the top. Head was off white almost tan and had tiny bubbles mixed in with a few large ones. Really nice head retention. It lasted almost all the way through the first poor and kept a cap of about half a finger for the remaining pours. Any hints of alcohol legs were kept hidden by the head and lacing. Lacing stuck to the glass at every drink and after every swirl. Thick, thick lacing that you see on heavy beers. I'm impressed. Really nice looking brew for sure.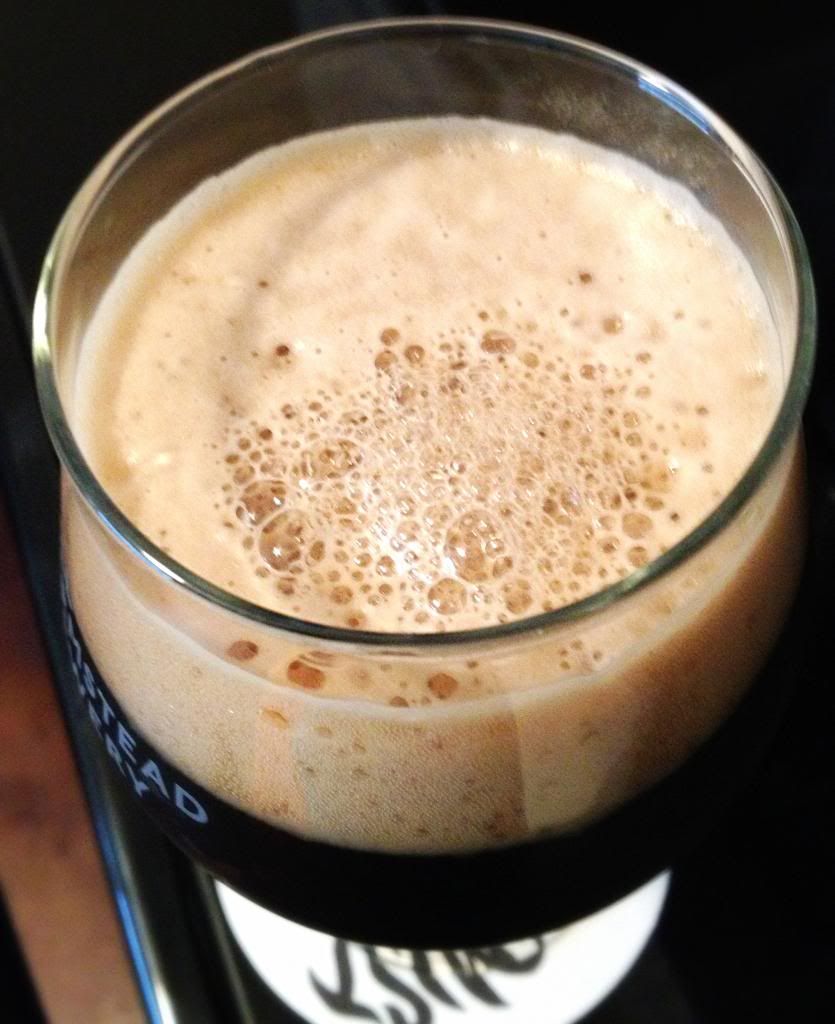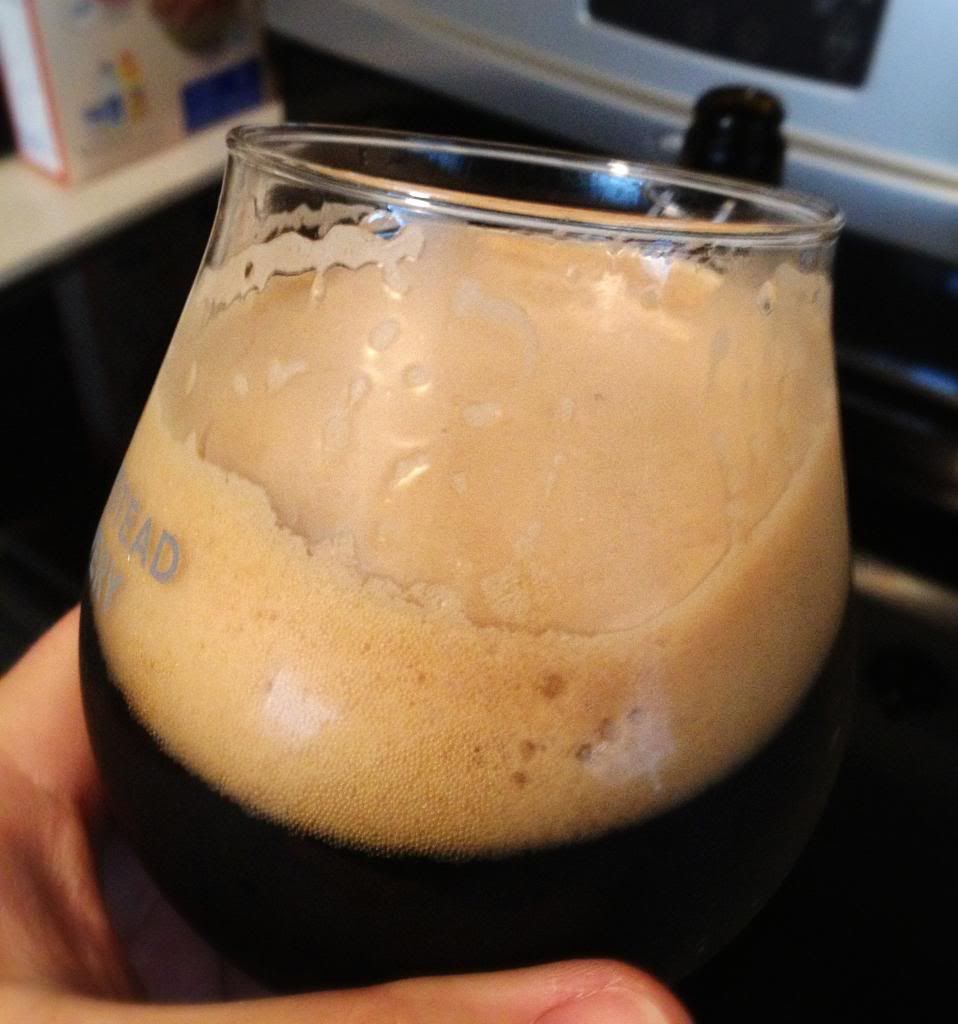 Aroma:
The nose is where this thing really starts to jump out. When you first take a whiff it gives you the piney and floral hops you want in an IPA. I say piney because that's the main one I got at first. I backed up and went back in and there was citrus. Right in your face grapefruit and even a little bit of lime. Upon further inspection of this magical aroma, I started to get some chocolate. Then some coffee and hints of mocha even. Some sweetness starts to come out and then as you back away, there are the hops again. It has a ton of pine, some sweet chocolate, lime and grapefruit citrus, then finishes with a bit of coffee roastiness and dark chocolate. Needless to say, this thing has a complex aroma. One wouldn't think those would go together but it is a fantastic aroma with no signs of alcohol at all. By far the best Black IPA I've ever smelled.
Taste:
First sip brought on the pine and citrus hops. Middle of the mouth the dark chocolate and cocoa come in. Then the back of the mouth finishes with that roastiness and more of the pine. It has a perfect amount of sweetness to balance everything. Still get some of the lime and grapefruit throughout the whole thing. Aftertaste is bitter like dark chocolate and hop bitterness at the same time. It really is as complex as the nose. No alcohol presence at all. I just don't pick it up. It's hidden so well for 9.5%. You can pick up everything you get in the nose and even a slight bit more roasted notes. Mouthfeel is medium-full. Good amount of carbonation without being too much at all. It's just perfect to clean it all off your palate and move to the next thing. I'm going to savor this one for a while for sure.
Verdict:
I'm definitely not one to over appreciate a beer for it's name. I will look for things wrong in the top rated beer, the first time I have it. But, this one really didn't have much at all wrong with it. If it's there I can't find it. That's a lot coming from someone who has taken many passes on Black IPAs. I've even poured some out! I would never pour this one out. I've read that this is the Imperial or Double version of their regular Black IPA, James. I'm intrigued to try that now. The nose was my favorite part of this beer. The taste and appearance were amazing as well, but the nose was unbelievable. I would let that be an air freshener in my house if I could! It goes with out saying I'm giving this an
A+
. I really, really, REALLY liked this one a lot. Maybe I can get some more in a trade some time. Now I'm wanting to even more try some of their other stuff. Best brewery in America? Well I'm not able to judge that, but this is really close to being, IMO, the best Double Black IPA period. I haven't had a ton, but I've had some big examples. Firestone Walker Wookey Jack is on my list to try as well. I'll get it one day. For pairings, this one is tough. It has to be something that can hold up well to it. Something for desert would be great. Maybe some brownies or a nice chocolate mousse. That would be good. I'll go with chocolate mousse.
I told you this thing had some good lacing!
Great job by Hill Farmstead on this one. Thanks to everyone for reading. Let me know what you think and if you've had this brew as well. All my contact info is below. Drop me a line or suggest some other brews for review! We are still growing the site and hope to keep bringing you brew info!
Cheers,