Today's review is another one from the Epic Brewing Co. out of Utah. I'm really looking forward to this one as it's one of my favorite styles, Barrel-Aged Imperial Stout. No hesitation or delay with this one. Let's get it into a glass!
Here's the review for Epic Brew Co. Big Bad Baptist! (Love the name!)
How it rates with others:
YouTube Reviews:
Daniel from Beyond the Pour
Jamison's Beer Reviews
Ryan aka StumpyJoeJr
Review sites:
RateBeer
About the Beer:
Style:
Barrel-Aged Imperial Stout
Alcohol by Volume:
11.4%
IBUs:
N/A
Big Bad Baptist Imperial Stout #10
Brewed on August 24, 2012. Packaged November 15, 2012.
This release was aged in both whiskey and bourbon barrels, primarily first-use whiskey casks, and second-use bourbon casks. Additional dark chocolate and fruit flavors mingle with the whiskey and bourbon notes.
The Grains/Malts
Muntons Maris Otter Malt, Briess 2-Row Brewer Malt, Crystal Muntons, Weyermann Light Munich Malt T1, 2-Row chocolate malt, 2-row black malt, roasted barley
Ibis Coffee (Gayo Mountain Sumatra Dark) and Cocoa Nibs.
The Hops
I poured this brew into my Cigar City Snifter.
Appearance:
The brew pours, as expected, very black. The head is dark khaki and measured about half a finger. You can see carbonation coming up so it's not really thick but it is as black as a cup of coffee with hints of brown around the edges. Lacing sticks on the glass as it's swirled and alcohol legs are left right after. Really great looking example of an Imperial Stout.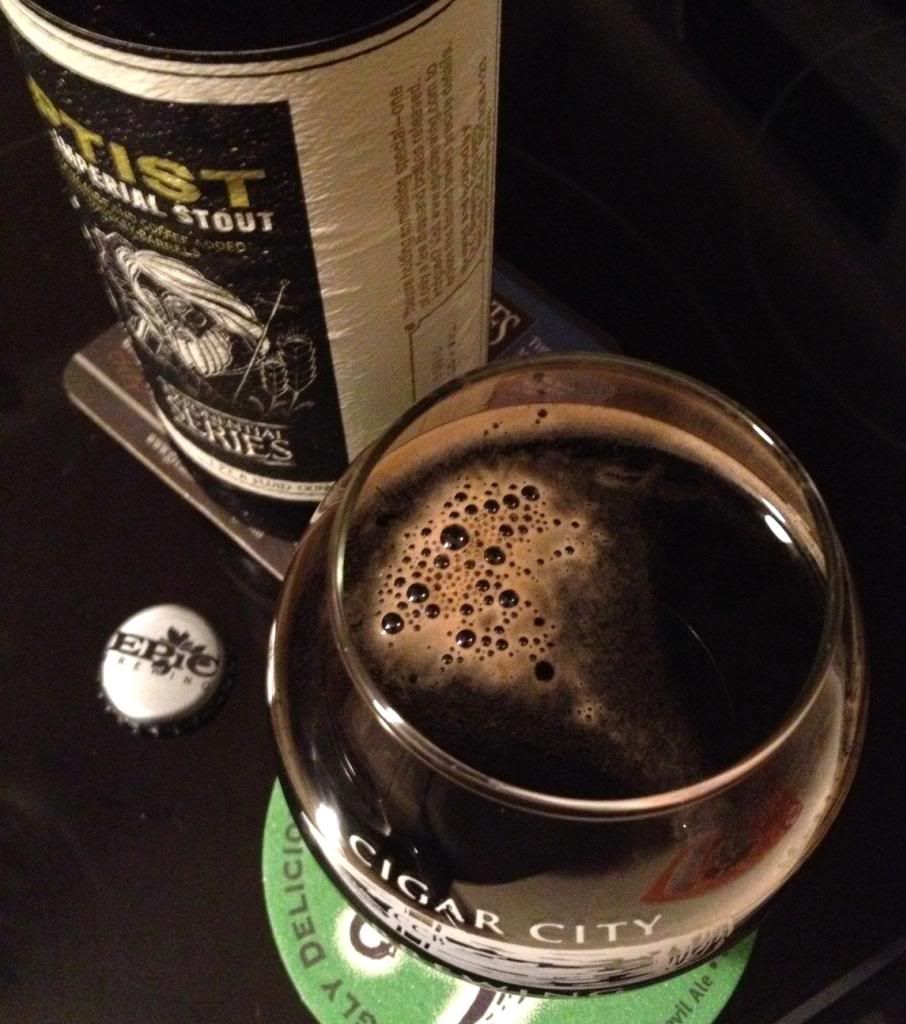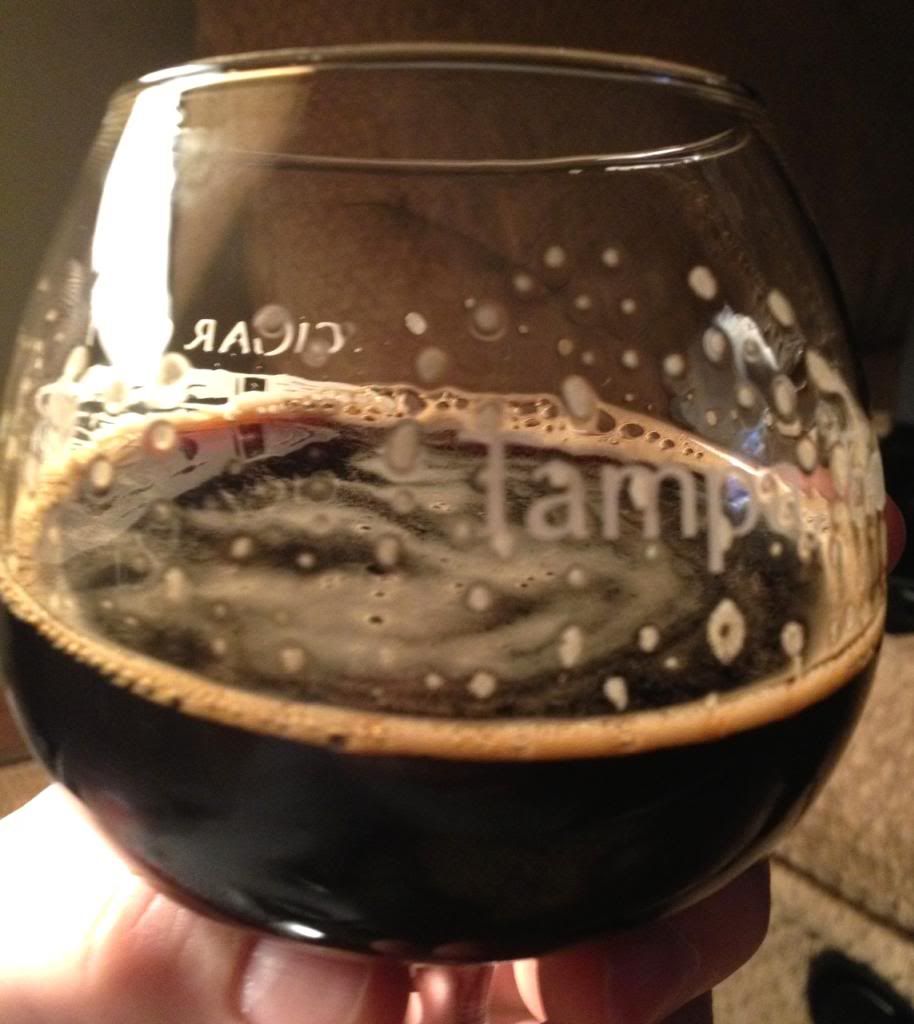 Aroma:
Big nose on this brew. Mixture of bourbon, chocolate and coffee. There is some alcohol sweetness in there as well. Really puts off a milk chocolate aroma with the combination. The coffee mixes quite well with it. Little bit of grainy notes too. Some small vanilla notes but not huge and not overly tannin rich from the barrels either. It's all a really nice combination from everything. Super balanced and enjoyable aroma.
Taste:
Right from the beginning I pick up more vanilla in taste. Then the dark chocolate and coffee roasty bitterness comes out. Like an espresso flavor with some mocha mixed in. Middle of the mouth has the sweetness I was looking for. Back of the palate and aftertaste brings out some more bourbon and some of the oakiness. I like the slight burn that it gives from alcohol. Not overly hot but lets you know this is a big brew. It warms up very nicely in the throat. As the brew warms more of the bourbon comes out and some grainy sweetness begins to shine. Mouthfeel is medium-thick and the right amount of carbonation shows through. Really nice stuff.
Verdict:
I really, really like this stuff. I figured I would after reading some reviews and the website. I like how they break down what's in it on their website. Nice to know what ingredients they use to get the great flavors. This had a perfect balance of chocolate, coffee, bourbon and sweetness. It's complex without being overly so that it is confusing what you are drinking. Really great mouthfeel and overall top notch. They set out to brew a big bad stout and that's just what they did. I'm giving it an
A
. I'm really glad I got two bottles of this. It drinks great now but with some time on it, it will get even better. Perfect for a cool night or great with some cookies for dessert. Great job Epic!! Now if I can just get out there to the brewery to get on of those glasses!
Thanks again for reading. Let me know what you think and if you've had this brew as well. All my contact info is below. Drop me a line or suggest some other brews for review!
Cheers,