Finally made it! It's taken a long time and there have been some gaps in the posts, but I'm finally to #50! I apologize for not getting posts up as quick but with work and my brewing it's been hard to just sit down and write a post. I hope to do better!
The beer today is one from The Bruery in Orange, CA. I wanted to do one that is in the style of what I've been into lately. I recently acquired this in a trade so I decided to pop The Bruery's Mother Funker. This is claimed to be one of the sourest beers out there. I'm hoping it lives up to that name! This one is over a year old. They don't recommend cellaring more than a year so we will see how it has held up. I was lucky to get this in a trade as it is one of their Provision Shop releases. It had to be bought in their, now closed I believe, Provisions Shop. Thanks to Larry for the trade!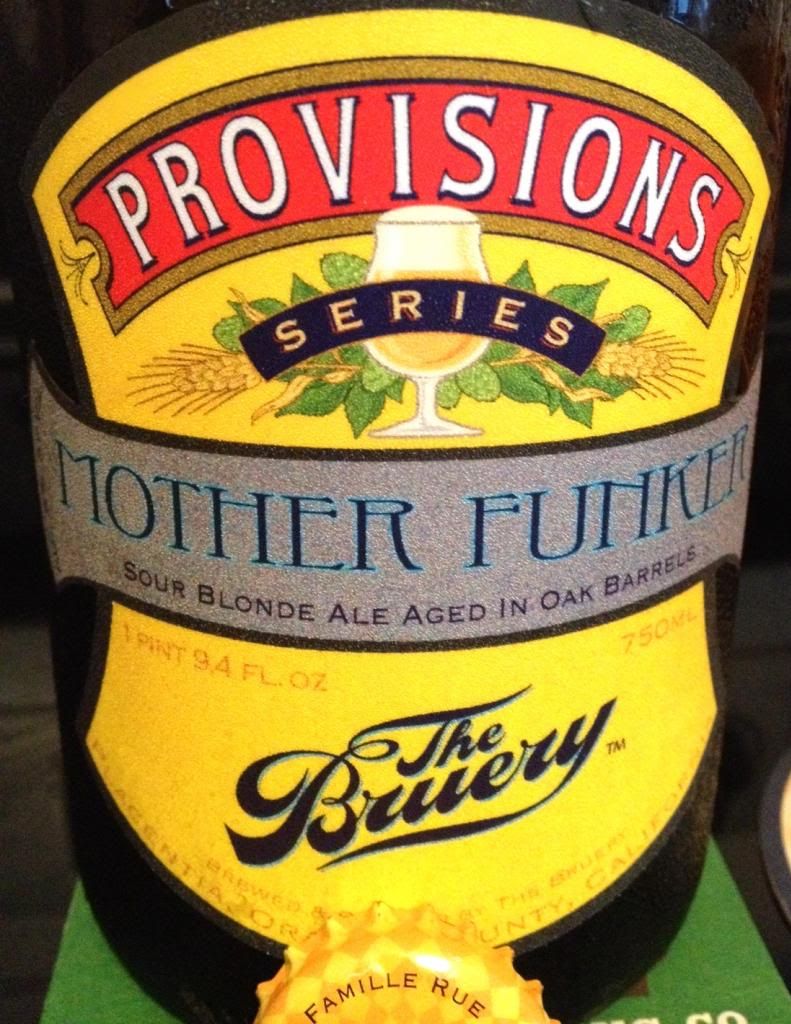 How it rates with others:
ABV:
6% Release: One time only
"
Mother Funker is a sour blonde ale that has been aged for several years in barrels predominately used for Chardonnay. Mother Funker is a seriously sour beer, perhaps the most sour beer we've produced so far. Bursting with citrus, funk, and a hint of white vinegar, Mother Funker is for those who like their sours with more sour
.
"
I poured this brew into my Bruery tulip glass. I thought that would be fitting.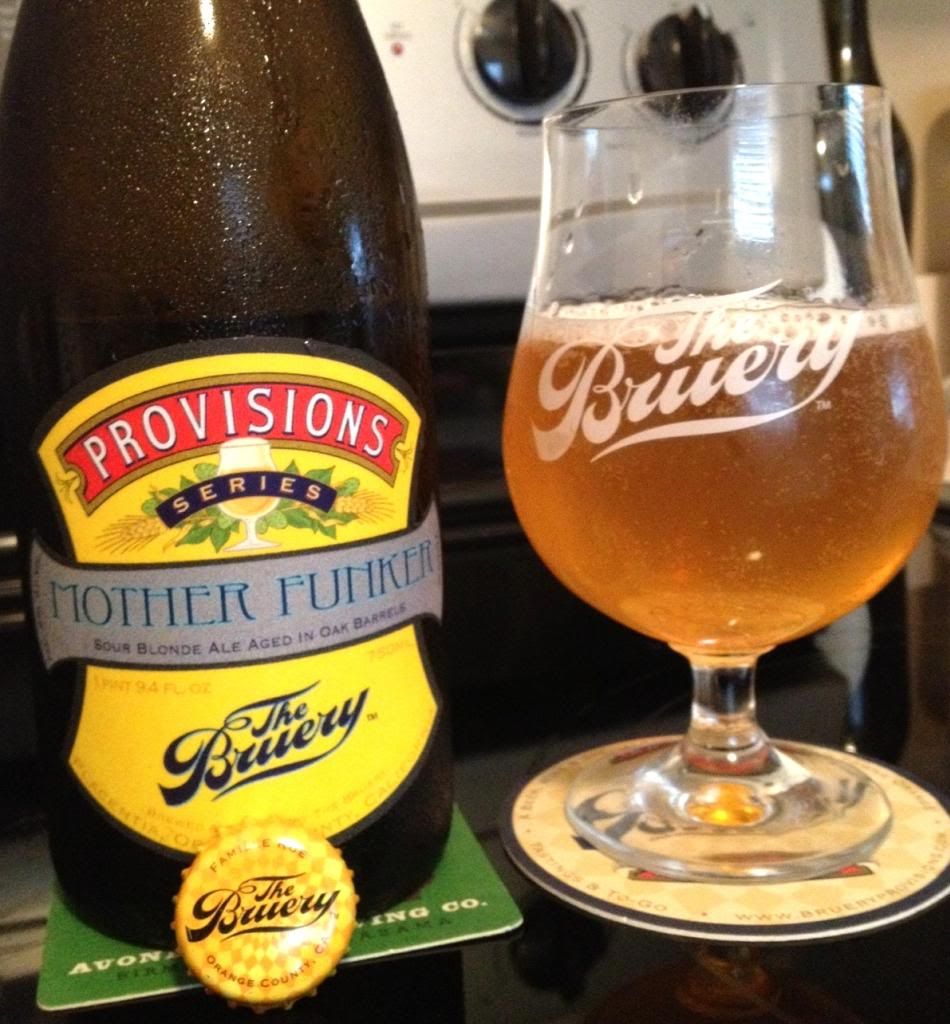 Appearance:
Pours out a hazy golden yellow. Very little head left in there. I didn't expect too much though as it is a sour and it's over a year old.
There is some carbonation streaming up and holding on the sides but nothing crazy. Settles out a little clearer but I'm not able to see my hand through the glass. No real alcohol legs or crazy lacing to speak of. Does look very refreshing though!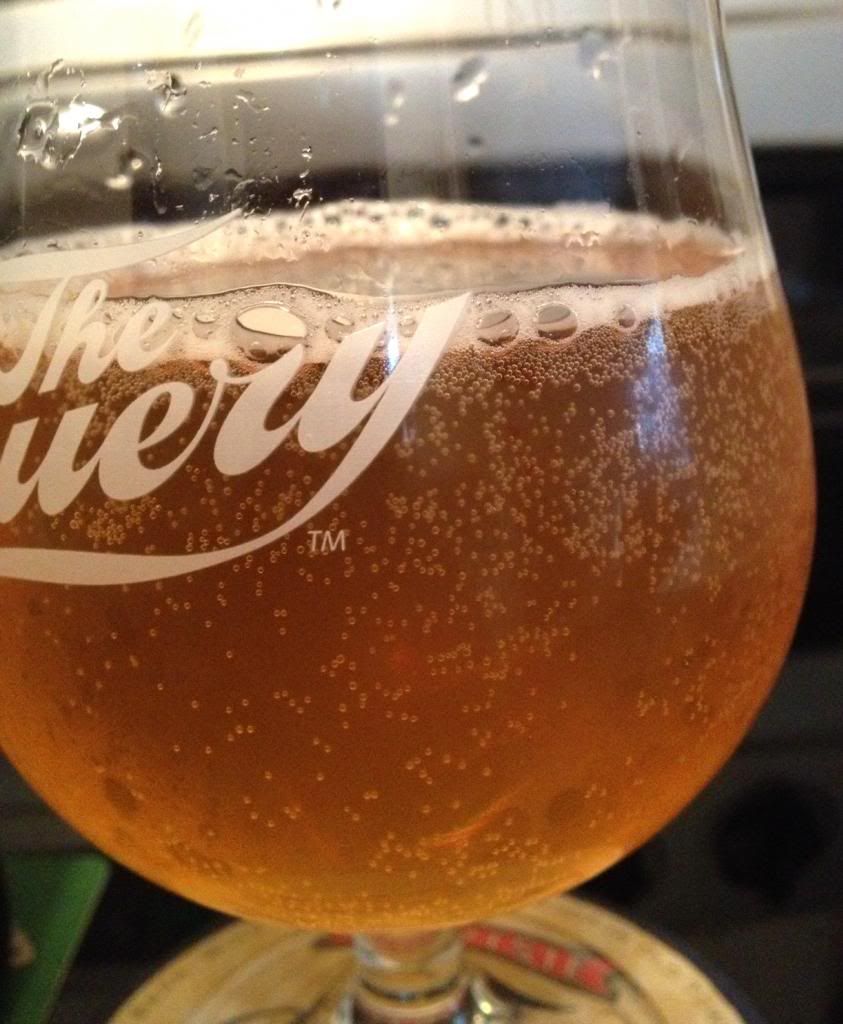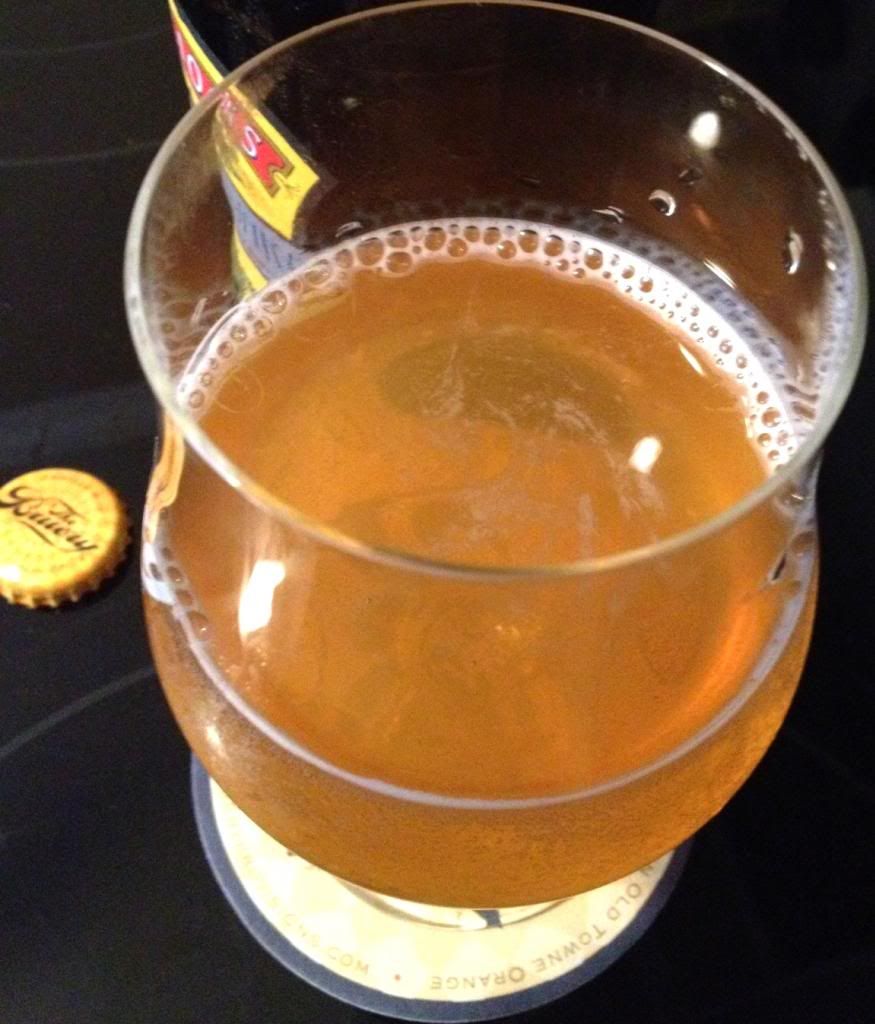 Aroma:
There was no hiding that this was a sour beer from the moment the cap was popped. I could smell the sour, lemony and vinegar notes instantly. It really started to draw my mouth up. I love it when that happens. The vinegar is more of a white wine or just a white vinegar. There is also some grainy sweetness in the aroma as well. Hints of the lemon and some slight funkiness. Mostly the sour overplays the funk. It has a hint of barnyard but not a whole lot. Definitely still has some grassiness and sweetness behind the sour and vinegar aroma.
Taste:
Wow... They aren't playing around on the sour here. Instantly that's what you get. Sour Warhead candy type flavor. The lemon Warhead at that. So much lemon flavor in there. It goes all the way back to your throat. The added time on this has really amped up the sourness. With the second sip, to wash my palate, I do get some of the vinegar notes. After a few drinks you get some of the grainy sweetness and some old hay type flavors. That's the best way to describe it. I'm sure in my youth I've tasted some old hay growing up on a farm. That's what it reminds me of. It's very, VERY sour. I'm really liking this but kind of regretting tackling it alone. HA HA. Super dry mouthfeel and finish as well. It's super sour but then it goes away right after you swallow. No crazy lingering aftertaste. It makes you want to drink more but then again it reminds your of the HUGE sour notes as soon as you take the next sip.
Verdict:
This is by far the sourest (most sour?) beer I've ever had. It's dry, sour and a hint of sweet. I'm not going to say it's easy to drink. It is, but it isn't. I had to have a different beer in between glasses to give my palate a break. As it warmed the sourness just got bigger and bigger. More sour than any Gueuze or Lambic I've had. Definitely more sour than Rueuze from them. (I loved that beer!) This Wild Ale is really, really wild! It's an amazingly crafted beer though. It's not just sour and that's all you get. It's not the most complex brew but, it has a sweet backbone to back it up. The best comparison I can give is the Warhead one. It's sour then it has a little sweetness to give your palate a break. I think this is an A caliber brew, maybe an
A-
for a grade. Amazing beer but if I could change one thing it would be to add a little more sweetness. That would make it a little more drinkable. I would have loved to have tried it fresh. I think this is a stand-alone brew but if I had to pair it, I'd say some type of salad with a sweet dressing. That would be a good mix.
Cool verbiage on the back of the bottle. "Not for the sour beer newbie" HA HA
Thanks to everyone who is out there reading. We appreciate all the views and feedback. I hope to have some more homebrew stuff to post soon. Also some more brewery visits. Let me know what you guys think of how we've done so far. My contact info is below if you have any comments or suggestions!
Cheers,