Today I had to interrupt my regularly scheduled program (or review) with something that I found at my door step when I got home last night. Tom had sent me a package of brews he had picked up for me and included a couple early Christmas gifts! This was one of the brews he included. I was floored when I saw it. I didn't think I'd ever get to try this one. It's limited in the distribution and that distribution changes each time the brew is released. Really big thank you to Tom for this one! The brewery really steps it up a notch with these Enjoy By IPAs they are putting out. If most of you don't know, Stone is one of the few breweries that actually handle their own distribution. This helps out immensely when we are talking about freshness of a brew. They have more of an ability to get it out to the consumer as fast as possible. They take advantage of this with the Enjoy By IPA. They put these things out within days of the bottling and recommend you drink them by a date on the bottle. We all know fresh IPAs are better. So let's see how the Stone Enjoy By 12.21.12 Double IPA stacks up.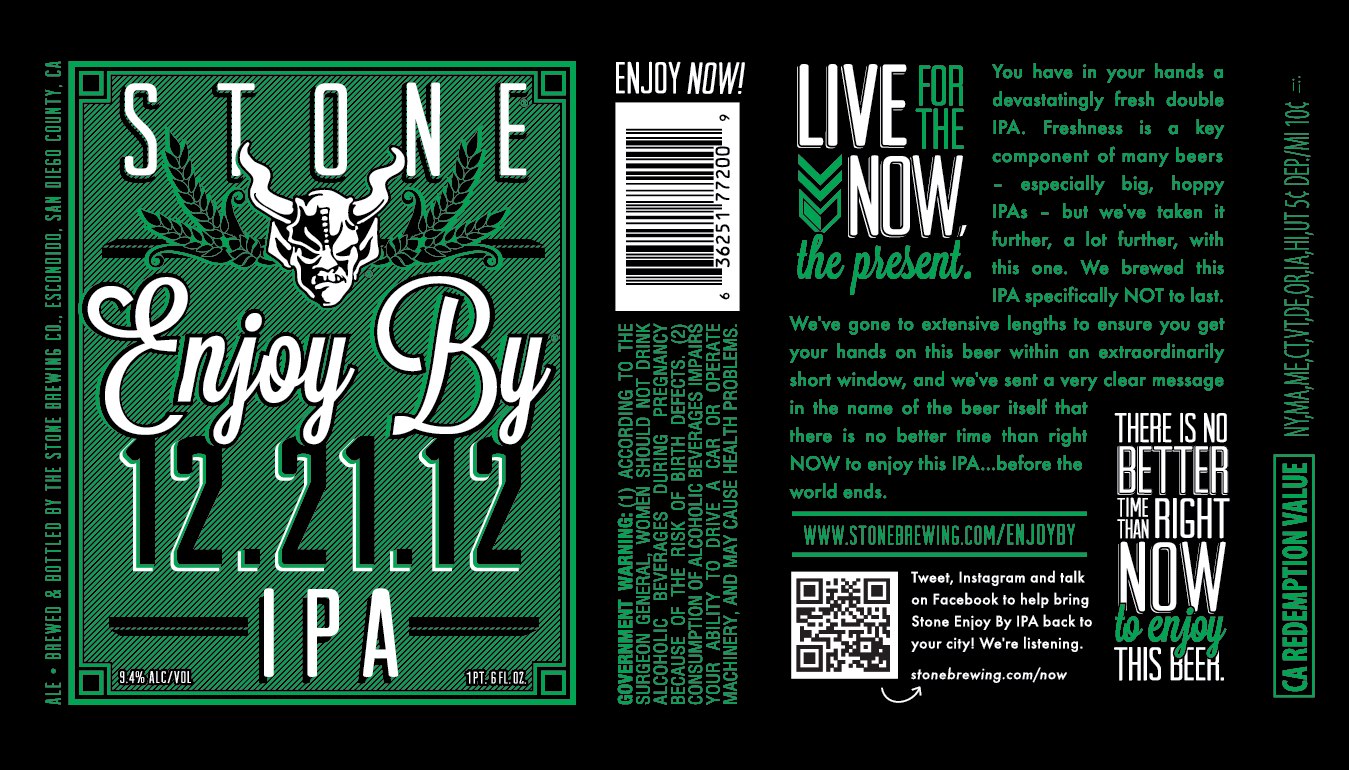 How it rates with others:
YouTube review:
What Cheers!
rate
beer
review:
About the Beer:
Style:
Double IPA
Alcohol by Volume:
9.4%
IBUs:
88
Serving:
22oz Bomber
Bottled On:
11.16.12
Enjoy By Date:
12.21.12
"You have in your hands a devastatingly fresh double IPA. While freshness is a key component of many beers - especially big, citrusy, floral IPAs - we've taken it further, a lot further, in this IPA. You see, we specifically brewed it NOT to last. We've not only gone to extensive lengths to ensure that you're getting this beer in your hands within an extraordinarily short window, we made sure that the Enjoy By date isn't randomly etched in tiny text somewhere on the level, to be overlooked by all but he most attentive of retailers and consumers. Instead, we've sent a clear message with the name of the beer itself that there is no better time than right now to enjoy this IPA."
I poured this brew into my Red Brick tulip glass.
Appearance:
The brew pours a very golden yellow. Super clear with no haze at all. Two fingers of an off white head with multiple sizes of bubbles. Steady head lacing all the way around the glass. Decent head retention but after a few minutes it gave way to a ring around the glass and it kept the lacing all the way through the drink. Good carbonation with bubbles on the glass and coming up from the bottom. There are alcohol legs around the edge of the glass. That would be expected with this large of a brew. It really looks super refreshing and amazing. My mouth started watering watching it go into the glass.
Aroma:
This brew was absolutely HUGE on the nose! I mean right at the front you get really big citrus notes. You get the grapefruit, some orange peel, a hint of some peach and maybe some mango in there. Then piney, resiny notes just fill your nostrils too. Really similar to some big East Coast IPAs in that it almost smells like a fresh, wet, green pine cone. Some lemon grass or even maybe some fresh cut grass danky aromas in there too. Then you get the sweet malts right in the middle. Some almost candy sweetness. Then a tough of honey on the finish. This brew is epic on the nose! Huge west coast hop profile with no hint of alcohol.
Taste:
At first sip you are again hit with the really big citrus notes. Fresh squeezed orange juice and grapefruit juice. Hints of some lemon zest and even maybe a bit of lime. The citrus coats your palate right as the pine starts to creep in. With the pine come big earthy notes. That danky, juiciness is right in there too. So similar to Pliny if not a smidge better on the taste. Malt backbone balances everything so well. Finishes sweet and dry and makes you want to keep drinking. No alcohol feel or taste in there. They cover it up amazingly.
Verdict:
This thing is simply amazing. By far the best IPA I've had from Stone. I didn't get a chance to have Ruination 10th Anniversary but if that was as good or better that one was epic. This thing is so super solid. Just fills every gap that is there for an IPA. Being super fresh helps this and that's the only way it should be drunk. I'm gonna put this in the same class as Heady Topper and Pliny. Gonna be an easy
A+
. I think this is my favorite brew from Stone and I'm an amazingly huge IRS fan. I'd love to pair this with some really spicy barbecue. Maybe even some barbecue nachos. I'd sit on the porch and chow down with a big brew like this. Stone hit a home run for sure!

If you get this and have tried it let me know. If you get this and haven't yet, GET IT!! You won't regret it. Comment, follow, subscribe! Tell your friends!



Cheers,
Gus