Day two of Bastard Week has a double dose of the brew from day one. This one is a seasonal or once a year release from Stone Brewing Company. It's a double batch of the Arrogant Bastard called simply Double Bastard. It's touted to be a big complex brew. If one Bastard is good, two should be better, right?
How it rates with others:
YouTube review:
Joseph via Proper Hops
(This review is from last year.)
rate
beer
review:
Information from the brew's own website:


About the Beer:
Style:
American Strong Ale
Alcohol by Volume:
11.2% (Label picture shoes 10.0% but it changes each year.)
IBUs:
Unknown
Serving:
22oz Bomber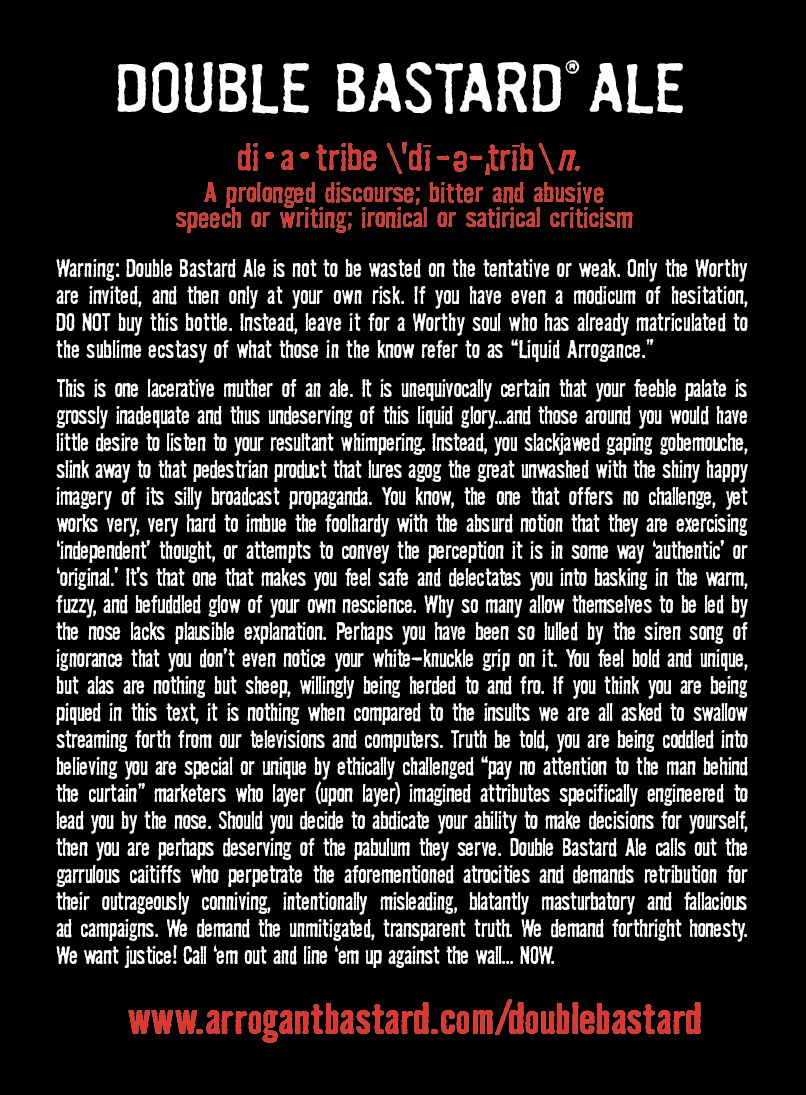 I poured this brew into my Jester King glass.
Appearance:
This brew pours with a solid four fingers of head. An off white head with tight bubbles throughout. Appears to be pretty carbonated. It is a clear amber with some actual red hints to it. It's a dark amber. You can see straight through the brew and carbonation is streaming up the side of the glass. Sticky lacing around the glass. You do get alcohol legs along the glass as well. It's a big beer so that is to be expected. Menacing look to it that I like to see in an American Strong Ale.
Head retention was amazing! The head held all the way through the first glass!
Aroma:
Hop presence is very apparent on this one. Big pine and resiny notes with some earthy, grass aromas in there as well. Slight citrus but nothing just huge in the citrus department. Sweet caramel malts and little bit of some dark fruit maybe. Some raisins and other dark sweet fruits. It is full of different aromas. One whiff you may get something fruity and citrusy then on the next one you seem to get more of the sweet malt and caramel or toffee type aromas. Maybe a slight hint of alcohol in the aroma as well. Seems to be pretty complex.
Taste:
Again right at the front you get the hop bitterness and some of the citrus notes. There are the pine flavors with a mix of some bitter grapefruit rind it seems. It has a full mouthfeel and you really feel the carbonation. Middle of the palate the hops hang on and the bitterness is still there. As it finishes the caramel sweetness mixed with a raisin or dark fruit sweetness sets in. There is some spice in the flavor that wasn't too big on the nose. It's really full of all different kind of flavors. Much like the aroma I think if different people taste this they can get different things. For me the citrus and pine from the hops mix well with the sweet maltiness that finishes on this one. I don't really pick up any of the alcohol in there so the 11.2% ABV is hidden well.
Verdict:
Double Bastard is a very big brew. It's full of all different kinds of aromas and flavors that just attack your palate. I enjoy that in a brew when that is what I'm looking for. I really liked the Arrogant Bastard for it's drinkability while being a big brew and this one doesn't disappoint in that department at all. I'm going to give this brew an
A
. I'd like to sit on one for a while and see how it does after the hop bitterness fades, if it does. This is a brew that would go well with pizza or something else with a good red sauce. Maybe some spaghetti and meatballs. I'd love to try that with them.
Let me know what you think of the brew from day two of Bastard Week. It's a hugely complex brew that may not be for everyone. I do think everyone should try it at least once. I'll leave you with the quotation from the bottle until next week...
"Ye Shall Know the Bastard, and the Bastard Shall Set You Free."
Cheers,
Gus