The final day of Bastard Week brings us the big boy of the Bastards. This one started as a 13th Anniversary of Arrogant Bastard brew. Now it is released every year on the anniversary. It is a blended version of Arrogant Bastard, Double Bastard and Oaked Arrogant Bastard that is then dry hopped to amp everything up. Basically it's a monster of a big brew. I really wanted to grab a couple of these when I found them but I did show some restraint. Here is the review of Stone's Lukcy Basatrd (Lucky Bastard.) By the way, all of the writing on the bottle is mixed around like the name!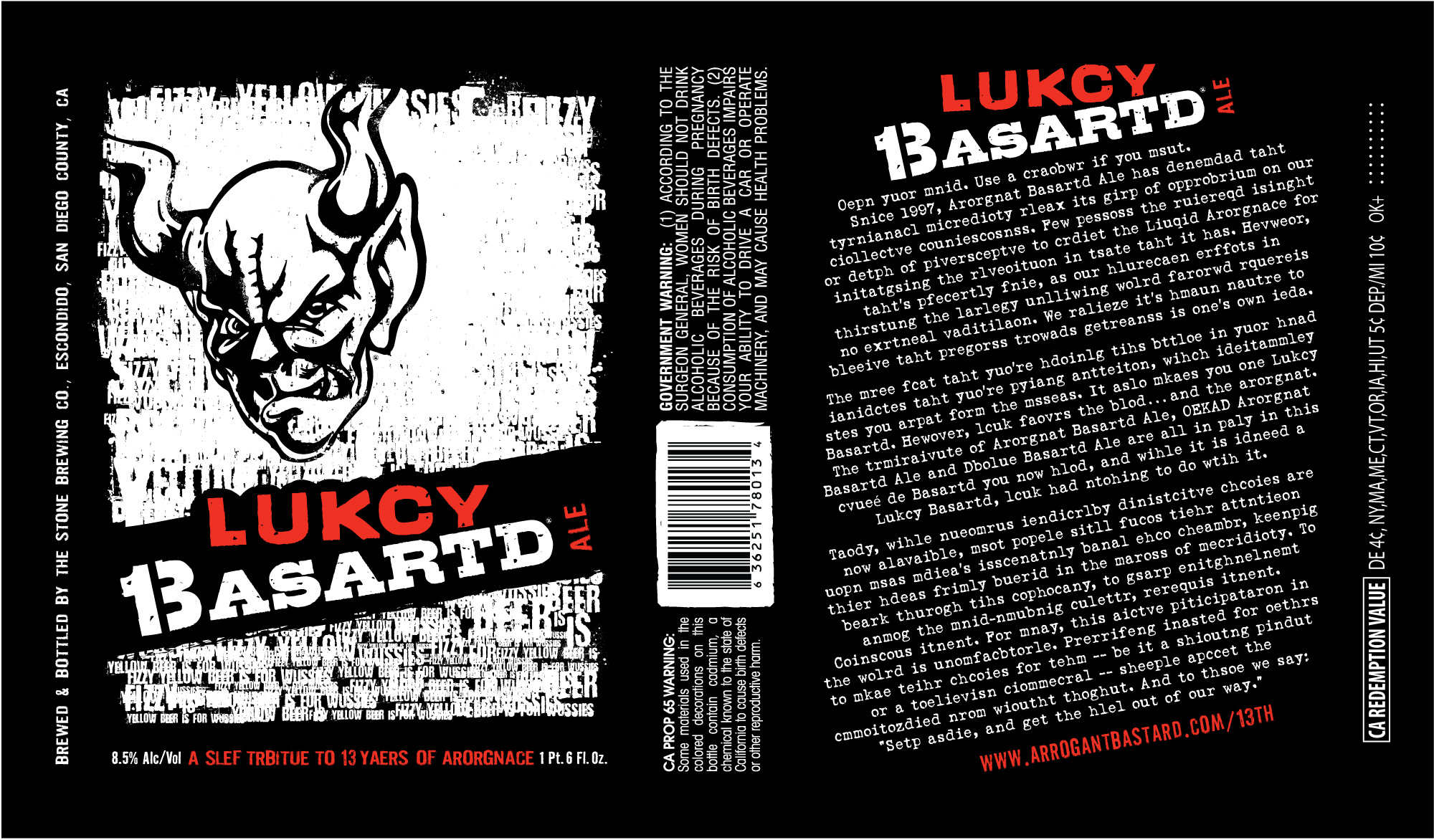 How it rates with others:
YouTube Review:
BeerichiTuba's (Winton) Review
rate
beer
review:
Information from the website:


About the Beer:
Style:
American Strong Ale
Alcohol by Volume:
8.5%
IBUs:
Unknown
Serving:
22oz Bomber
Stone again does well with the description on the bottle. The picture above should have some of the description in it. Be careful, it's hard to read! ha ha
I poured this brew into my Jester King glass.
Appearance:
The brew poured much like the other Bastards. Dark amber in color almost a red hue to it. Carbonation was streaming up the side of the glass and it poured with about three fingers of head in the glass. Very little alcohol legs noticeable but there was some nice lacing on the glass. Clear as well with not haze at all in the brew. Really had that typical Bastard look to it. Menacing and dark almost like a red tinted barely wine.
Aroma:
Hops hit you right at the front of the nose with a mixture of tropical fruits and some pine aromas as well. Notes of grapefruit and orange with a hint of some lemon zest and actually maybe a little lime. There is a hint of a sweeter fruit kind of like a peach or a nectarine aroma. It's very pleasant. The sweet caramel malts mix in right after that but the big player to me is the peachy type aroma it has. Really refreshing smelling.
Taste:
Really hop forward with a kick of the grapefruit tartness. There is a sweetness in there that resembles the peach aroma. The longer it sits the more peach comes out really. Then there are other tropical fruits like mango in there as well. The malt comes forward with the flavor of caramel but more of a caramelized sugar flavor. Little hints of vanilla from the Oaked Arrogant Bastard I'm sure. Medium mouthfeel with a perfect amount of carbonation. Aftertaste is more of the hop bitterness that cleans itself off the palate really well. All the great qualities of each individual brew just amped up with the dry hopping. Super easy drinkable with not hints of alcohol at all.
Verdict:
Out of all of the Bastard Ales I've had, I haven't had Oaked by itself yet, this is my favorite. The dry hopping really sets this one apart but then the amazing malt background blends right in perfectly. It's well balanced like you would expect from a blended beer but it also gives you subtleties that you just don't get elsewhere. Stone really knows what they are doing with this line of brews. I'm going to give this one an A+. I'll be looking forward to this release every year as long as they continue putting it out there. Pairings for this one I'm going to say a nice blue cheese burger. I think the blue cheese would work really well with this brew.
Thanks for following along on the Bastard Week of reviews. I had a lot of fun comparing them and seeing what flavors were different. Each one contained a lot of similar flavors but different parts were expressed more with each. Comment, subscribe and follow. Let me know what you think of these offerings from Stone. Also let me know if you have a brew you think I should review. Thanks for reading!
Cheers,
Gus